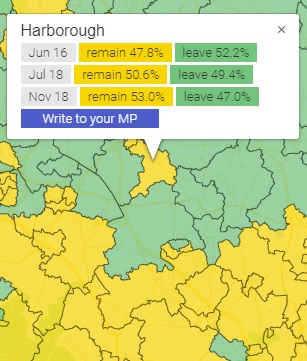 Best for Britain have published a couple of polls that use Multi-Level Regression to predict what is happening in individual constituencies.
They show that my local constituency of Harborough (Oadby and Wigston) has swing from 48%/52% in June 2016 to 53%/47% in favour of continuing our European Union membership.
This technique successfully modelled the 2016 US presidential result in 50 out of 51 states. It uses detailed demographic information about each state or constituency to predict polling information from a relatively small poll (just under 10,000 people across the US; a similar number for UK).
The method looks pretty reliable for looking at what is happening to opinion on Brexit in individual constituencies. There are several academic papers on the use of Multi Level Regression, including this one on the US elections from Public Opinion Quarterly.
Yougov used a similar technique to predict constituency polling in the UK 2017 General Election. Yougov were careful to point out that it was not a prediction of the final result but a reflection of opinion during the campaign. That said, they expected to be wrong in up to 40 of the 650 constituencies and in fact over-estimated the SNP and Labour seats by around 15-20 in total and under-estimated the Conservative by the same amount, although correctly predicted no overall majority.